INVITATION TO CORPORATE INNOVATION MANAGEMENT WORKSHOP
Posted in Registration on Monday, 20th June 2016 by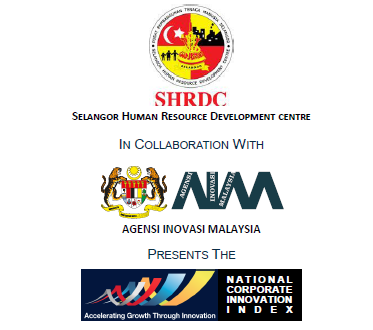 CORPORATE INNOVATION MANAGEMENT WORKSHOP
ON 21 JULY 2016 FROM 8.45AM TO 1.00PM
AT SELANGOR HUMAN RESOURCE DEVELOPMENT CENTRE (SHRDC),
1, GROUND FLOOR, BLOCK 2, PUSAT PERNIAGAAN WORLDWIDE
JALAN TINJU 13/50, SECTION 13, 40100 SHAH ALAM, SELANGOR
Workshop Objectives
At the end of the workshop, the participant should be able to:
1. Position "Organisational Innovation" as one of the key strategic enabler to spearhead
sustainable business performance and growth in the organisation.
2. Introduce and explain the NCII Framework to relevant stakeholders in the organisation.
3. Utilise the 'NCII Online Innovation Management Tool' to establish the organisation's
level of innovativeness.
4. Administer and roll-out the 'NCII Online Innovation Management Tool' across the
organisation.
5. Utilise the "Organisation Innovation Scorecard / Dashboard" to focus on improvement
strategies.
What is the National Corporate Innovation Index (NCII)?

The NCIIis a set of universal innovation indicators which could accurately gauge each company's innovation performance.
It is an innovation management and development tool that will provide companies acomprehensive overview of crucial areas that need to be managed and further developed to boost their innovativeness
Why participate?
Independent studies have shown that innovative companies out perform non-innovative companies.
Better understandand improve your company's innovation management;
Garner insights and obtain data, uncover areas of strengths and weaknesses relative to your company's innovation endeavours.
Takeaways from the workshops
The seven (7) different types of innovation.
The eight (8) elements of innovation governance.
The NCII online innovation management tool.
Pertinent information regarding the workshops
There is no cost or charge to the participants/companies for participating except they bear their own travelling expenses.
The workshops would be a half-day session (from 8.45am to 1.00pm)where we would introduce the NCII in a more comprehensive and informative way and provide training on the utilisation and administering of the online tool of the NCII.
Participants are required to bring along their laptops or iPads/tablets.
The preferred participants to the workshops would to be the ones that will be the administrator of the NCII in their respective companies..
Participation is limited to two(2) representatives per company.
During the workshop they will be required to go through and respond the whole NCII framework. This is so that they could then be able to conduct the NCII with other colleagues in the company
For further information, please contact :
En Nik Masrul Hisyam Nik Muhammad| | M: +60 19 673 6010 | E: nik.masrul@innovation.my
En Wan Mohd Hilmi Wan Ahmad | M: +60 19 920 9475 | E: wan.mohdhilmi@innovation.my
Agensi Inovasi Malaysia
3501, Level 3, Quill Building 3
Jalan Teknokrat 5
63000 Cyberjaya
Selangor Darul Ehsan.
T: +60 3 8319 3116 | F: +60 3 8319 3499 | www.ncii.my
or contact:
Hasnah Ahmad | M: +019-7311979 | T: +03 5513 3560 | E: hasnah@shrdc.org.my
Selangor Human Resource Development Centre (SHRDC)
Register online : Click HERE